Top of the Line Patio Contractors in Cupertino, CA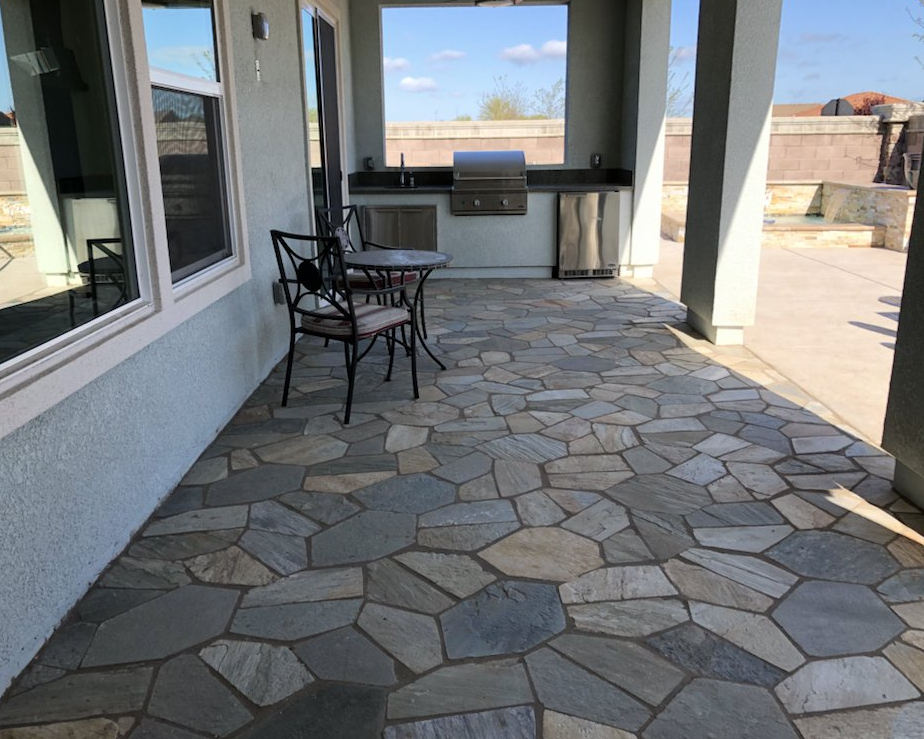 The outdoor space of any house or office has so many small and big areas that can create a majestic look if professionals work with them. If you have a large outdoor landscape, but it is nothing but the flatbeds of grass, you miss various elements. Driveways, walkways, courtyards, etc., are some areas that you can chart out in outer space. 
If space is properly designed into such sections, your outdoor landscape will be a visual treat for the onlookers. You can amaze your family and friends with a nicely chalked out patio in Cupertino. Talk to one of our experts at Cupertino Pro Concrete at 408-549-9009 to work on your dream of having a standout patio in your home. 
Benefits of Patios
They have so many benefits to count upon. They make your outdoor living ready for summer fun and barbecues. You can host parties to get along with friends over drinks or dinners. It increases the value of your property if you ever need to sell. Such spaces extend the living areas giving more space to enjoy and entertain. Your kids will get excellent space to roam around, and it also makes your space look bigger. 
Be it any occasion, birthdays, anniversaries, get together, etc. you do not have to bother about accommodating your guests. This additional outdoor space will serve the purpose of throwing parties. Just decorate the outdoor space with suitable furniture and a little addition like outdoor fireplace, fountains, etc. will ignite the spark of fun. 
The material used to construct the outdoor space requires low maintenance, cleaning, and even repairing. The outdoor weather will not negatively impact the upkeep of the outer space. 
Do you feel the need to have a new look for the outdoor living area? There are so many styles when you plan to have a patio or improve the existing one. 
A Patio that Reflects your Personality and Taste
A patio is an outdoor living area that is used to relax and enjoy time with family and friends. It should be not only strong and sturdy but also spacious enough to indulge in some fun-filled activities. At Cupertino Pro Concrete, we have a team of highly skilled craftsmen and masons that can install a beautiful and functional patio that compliments your home's architecture and suits your lifestyle. We have earned a solid reputation as a high quality and reliable contractor that makes visually arresting patios. You can earn praise for your taste and enhance your property's value by building a patio in your property. 
Decorative Patios
Concrete is a construction material renowned for its immense strength and longevity of structure made with it. It is certainly the most loved construction material even for patios across the country. If you are reluctant because of the drab looks of concrete, we have many pleasant surprises in store for you. Say goodbye to dark grey concrete as we have perfected the craft of decorative concrete. Through the use of staining and stamped concrete, we can install concrete patios that look anything but concrete to everyone who comes to your home. We can create patios that are not only colorful but also boast artistic designs. Get the looks of wood or natural stone in concrete patios to impress all your friends. 
Stone Patios are Strong and Durable
No other construction material comes even close to stone in terms of strength and durability. When you are spending so much money on creating an outdoor living feature, why not make sure that it stands for a long time and does not require maintenance? In addition to these advantages, stone also allows the blending of indoor and outdoor living styles for the homeowner. It compliments all kinds of water features, sitting arrangements, kitchen and fireplaces, and flooring materials in your outdoors. 
We can customize the concrete or a patio made of any other material in the outdoors of your property through designing and staining to create a feature that becomes the center of attraction for everyone. Contact us by dialing 408-549-9009 to schedule a visit with one of our representatives to your property. We can help you realize your dreams by creating a mesmerizing patio that will last for a very long time to come.