Cupertino Colored Concrete
Most Trusted Colored Concrete Contractor in Cupertino, California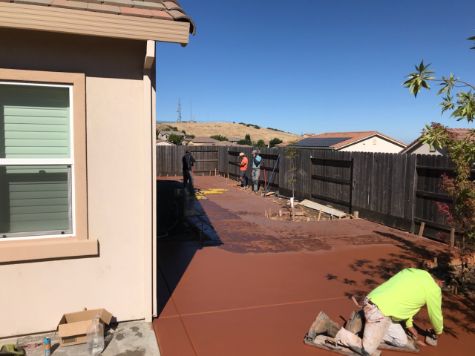 If you are living in the Cupertino area or in its vicinity and searching for the top masonry contractor, we are glad to tell you that you don't have to look any further. Cupertino Pro Concrete is an established name in the industry, and we are here to solve all your concrete and masonry related issues. 
Reach us by dialing 408-549-9009 for free estimates.
Tired of looking at the monotonous grey surface in your hardscape? Switch it up. With colored concretes, the choices are limitless. You can choose any color you like, any texture you prefer. Sounds interesting? Let us tell you more about it. 
What is Colored Concrete? 
Colored concrete is a special kind of decorative concrete that uses colors or stains to get rid of the dull grey tone of regular concrete. This provides your house with an aesthetic touch while also maintaining the strength and durability that concrete offers. You can use colored concrete for different purposes, be it for indoors or outdoors, residential projects, or commercial projects. You can get a variety of textures, too, depending on which method of coloring is being used. You can use colored concrete for your floors, sidewalks, driveway, patio, pool decks, and any other area you like. 
Advantages
Colored concrete is extremely affordable. You get to enjoy the beauty of exotic materials at a much lower price.

Since the primary material is concrete, durability is a must. 

Colored concrete does not wash away or fade away easily. 

Adds an elegant look to even the most simple-looking houses. 

Colored concrete can create a unique design for your floors.

It helps you to get rid of the monotony of plain concrete.

You can choose any color or texture of your choice. 
Ways to Color Concrete
There are many ways you can add color to concrete. Depending on the methods, the end results differ. 
Concrete Stains
The most frequently used method to make colored concrete is staining. There are two types of stains, water-based and acid-based. Acid-based stains chemically react with the concrete and create unique patterns on the floor. On the other hand, water-based stains work pretty much in a similar manner, but there is no chemical reaction involved. They permeate the layers of the surface and stain the concrete permanently. These colors do not fade away with daily wear and tear. We mostly apply concrete stains for creating a subtle, translucent look that exudes elegance and luxury. 
Concrete Dyes
When you wish to have a nice pop of bright colors on your concrete surface, the concrete dye comes as a viable option. These colors are strong and also permanent. 
Color Hardeners
Sometimes, contractors use color hardeners to make the colors long-lasting and dark. They prevent any chances of fading. However, this is an intricate process that requires a lot of training. It does provide an amazing finish, but the procedure is pretty difficult to manage. Moreover, the hardeners are not very safe for our health. They may cause minor breathing troubles in some cases, so it's better to use these hardeners in moderation, keeping in mind all the safety guidelines. They are also used to harden the color of concrete pavers.
Hire Cupertino Pro Concrete
At Cupertino Pro Concrete, we provide you with all the required skills and experience needed to execute your concrete or masonry project with utmost perfection. For us, customer satisfaction is our greatest priority. We provide premium services at an affordable rate so that you can turn your dream house into reality. While working on a specific project, we keep your visions in mind, so that the outcome is aligned with your imagination.
If you need to install colored concrete in Cupertino or have any other queries about us, call 408-549-9009 today and get a free quote!