Cupertino Flagstone Patio
Leading Flagstone Patio Contractor in Cupertino, CA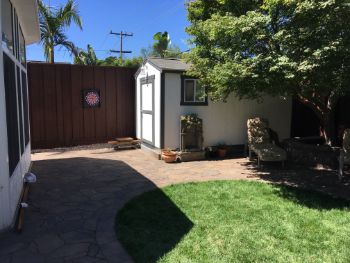 Flagstone is a great choice for all outdoor paving needs. Thanks to the beautiful color and texture, flagstones are often used in making patios. Flagstone patios give you natural looks, and they are very reliable as well. Natural stones generally look very nice in any project. But their exotic nature really shines through when it comes to outdoor structures.
Driveways, walkways, and patios are great places to flaunt your own taste and the elegance of stones. And among stones, if you decide on flagstone, there's nothing better than that. So let's look at why you should go for flagstone patios, their designs, and patterns. 
Why Go for Flagstone Patios?
When it comes to listing down the advantages of using flagstone for your patio, there are quite a few actually. First of all, flagstones look natural. If the installation is done right, then you would be impressed by how effortlessly natural they look in your backyard. Apart from that, they are quite beautiful to look at.
Flagstones come in various shapes, sizes and textures. Thanks to their diverse appearances, you can always get a unique look for your patio. Another great thing about flagstones is its ability to permeate water. They are both incredibly durable and great at handling water. 
Among flagstones, sandstone, bluestone, slate, limestone, and quartzite are the most popular options. Each stone comes with its own features. They vary in color, in design, and in texture. Thanks to these natural variations and the ability to customize, flagstone provides a compelling option for your patio project.
Apart from these, you can even grow small ground covers and grass between the small gaps of the stones. One thing that we can tell from years of experience that having the covers can work magic for your flagstone patio look. Thymes, mint, dichondra, and moss are some of the best options for this. If you need to know more about the usefulness of flagstones and which one will be the best fit for your project, give us a call 408-549-9009.
Flagstone Patio Installation and Patterns
The installation process of the flagstone patio is quite tricky. For patio floorings, you will need to get flagstones that are at least one and a half inches thick. For patios, flagstone can be laid directly on the soil. But if you have thinner slabs, then they need to be joined with the help of mortar. Gaps created by irregular shapes of flagstone can be filled with gravel or by the plants we have mentioned earlier. Mortar helps in placing the stones on the ground firmly and also helps in joining with other slabs. 
You can go with a random rectangle pattern when it comes to deciding on the layout and patterns for the flagstone patio. For a formal style, you can go with a regular rectangular pattern. But if you want more customization, then you can opt for irregular and random rectangular design, which looks sleek and stylish. For a more personalized design, going with crazy paving is always great. Crazy paving or irregular patterns give you a more natural and unique look. 
Flagstone Patio Installation: Self-Reliant or Professionals?
Flagstone patio installation is a lot of work. Going with self reliant methods will not be a great idea. As you may have come to know from this article, the installation process consists of many important steps. From deciding on the perfect flagstone material to analyzing the surface, preparing mortar, and placing the stones correctly – there can be multiple things that can go wrong. That's why it's always best to hire professionals who have the required knowledge and expertise.
We at Cupertino Pro Concrete always provide you the required experience and guidance so that you can get a hassle-free Cupertino flagstone patio installation. To know more about us, just give us a call on 408-549-9009.